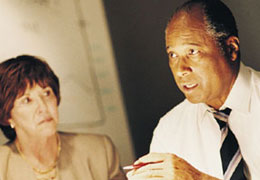 In a sweeping reform of education, No Child Left Behind requires that by school year 2005/2006 all teachers are "highly qualified" – that each classroom teacher possesses full certification, a bachelor's degree, and demonstrated competence in subject knowledge and teaching skills.
The demand for "highly qualified" teachers is unprecedented.
There are over 3 million teaching positions in schools and each year, approximately 200,000 teachers leave the profession or retire. Schools of education do not graduate an adequate number of teachers to meet the demand. Many school districts face shortages in critical areas where struggling learners are concentrated – special education, bilingual and ESL. Urban school districts often face the most difficult challenges in filling positions with highly qualified teachers.
Through school report cards, the public must be informed annually with its compliance with "highly qualified" teacher requirements; sanctions are clear. Administrators must fill the gaps in the existing staff through recruiting, retaining, and developing the teaching ranks.
Teacher Support Network provides districts with an interactive solution to help recruit and retain highly qualified teachers for every classroom.
In the National Teachers Recruiting center, we offer our member schools a rich database of teacher portfolios from which to choose; we provide simple and secure online tools to efficiently manage the recruiting process.
We afford aspiring or certified teachers a marketplace of career opportunities nationwide.
We enrich the recruiting process for schools and candidates through a valid, reliable, and exclusive online assessment of the essential knowledge possessed by a highly qualified teacher, TeacherKeysTM, published by American College Testing, ACT.
Teachers Support Network – it is fast, secure, and effective.