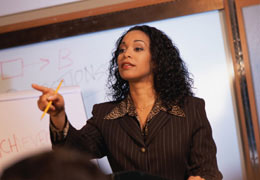 Education Jobs Among Fastest Growing Nationwide
The discipline of education is one of the largest markets for degrees and credentials offered by colleges and universities. In fact, the number of students seeking education jobs has risen significantly in recent years. Eduventures estimates that, in terms of the tuition revenue, the field of education as a curricular area is an $11.1 billion market in the 2003-2004 academic year.
Not only does education rank among the top three academic disciplines, (as measured by numbers of degrees awarded), but more than 250,000 degrees are awarded in education each year. This represents nearly 14% of all U.S. postsecondary degrees, and the bulk of today's education job seekers.
Compelling employment trends drive the market for credentials in the field of education. Record surges in K-12 enrollment growth, retirements, and reductions in teacher-to-student ratios are driving an increased need for teachers. According to the Bureau of Labor Statistics, elementary and secondary school education jobs will experience the greatest number of openings among professions requiring formal postsecondary education or one year of training over the period from 2000 through 2010. More recent data suggests that, while job growth in the U.S. economy has stagnated in recent years, education jobs have been among the fastest growing.
Significant regulatory changes also represent a key driver of opportunity for jobs in education. Federal legislative mandates such as the 2001 reauthorization of the Elementary and Secondary Education Act, or "No Child Left Behind" Act, are dramatically transforming foundational elements of teacher education and certification, while state efforts to comply with federal and local education reforms are creating new, alternative paths for education job seekers. In addition, Congress has recently initiated a thorough review of teacher education programs and teacher quality.
As a result of this background of change, traditional providers of postsecondary teacher education (colleges and universities) are facing new models and new competitors. Calls for quality, accountability, and efficiency in education job training are driving the entrance of business-oriented, non-traditional providers, including national for-profit universities. Entry into education jobs via alternative certification routes can be seen as a threat to the traditional providers of education degrees, but also an opportunity for new types of educational program offerings. In addition, the growing quality and acceptance of online education is enhancing program reach while opening up local markets to new, nationwide competitors.
Source:
Holmstrand, Kristen. "Teacher Education - A Dynamic, Compelling Higher Education Market," www.eduventures.com