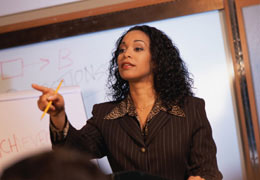 What to consider when choosing an online degree program

Online education is more an option today than ever. Because online learning eliminates geographical barriers and provides 24/7 access, online degree programs have become a popular choice for educators who want to continue to work as well as maintain family or personal commitments. In fact, the Sloan Consortium reported in 2012 that one third of all students in higher education have taken an online course, and the number will continue to increase.

But there are important factors to consider before choosing a program. Consider these questions:


- Are you self-motivated? Online education provides convenience, but your success will depend upon your discipline to keep up with courses and complete projects on time. Choose a program that will help you stay organized and contribute to your success.


- Do you have the time available to commit to the program? Online coursework still requires extensive reading and writing. If you budget time appropriately for your schoolwork, you are more likely to succeed. See the end of this article for a guide that can assist you with time management.


- Is the program affordable? If you want to avoid the burden of student loan debt, consider programs that are priced with your budget in mind. Don't just look at whether the college offers funding ? some programs are affordable on their own and can prevent the need for additional financing.


- Is the school accredited? Regional accreditation ensures that your degree will be widely accepted. Make sure that the schools you consider have the accreditation you need.


- Are the degree programs relevant to your career goals? Whether you want to transition to teaching from another career or become a building principal, choose a program that is applicable to your school and your community. Some schools focus on pedagogy and theory; others focus on real-world applicability. Decide what you care about most.


- Does the program offer academic excellence? Academic rigor is not limited to just brick-and-mortar schools, but you should be selective about the quality of education you?re getting when choosing an online Master of Education or other degree program.


- Are the students satisfied and does the college have a high graduation rate? Pay attention to statistics such as graduation rates, student satisfaction, employer (principal or administrator) satisfaction, and average time to degree completion. If most students say they are happy with the school they chose, you probably will be too.

Download this free guide to online learning from American College of Education to learn more practical ways to make your online degree program a success.

About American College of Education The mission of American College of Education is to deliver affordable, online degree programs that provide evidence-based content and relevant experiences to improve educators' knowledge, skills and performance. American College of Education is accredited by The Higher Learning Commission and is a member of the North Central Association of Colleges and Schools (HLC/NCA).