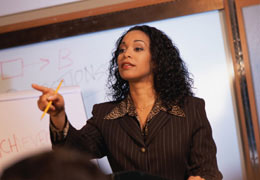 Recruiting and Education Employment - Focus on the Applicant
Teacher recruitment is at a critical stage as districts face a growing shortage in the education employment market. Across the nation, personnel departments in isolated rural enclaves and inner cities compete for qualified applicants in hard-to-fill positions.
In a rush to satisfy their diverse education employment needs, districts are often left scouring their files for math, science, foreign language, and special education teachers. More often than not, districts have difficulty attracting or retaining the best teachers. These candidates have already been courted and swept away.
The climate of education employment has certainly raised questions about the effectiveness of today's recruiting efforts. One district, in an effort to streamline their own education employment process, explores a number of solutions.
Kentucky's Jefferson County Public Schools is the 26th largest urban school system, and boasts hefty employment goals each year. With 5,800 teachers serving over 95,000 students, the district has had to fill in excess of 770 teaching vacancies annually. Their recent teacher survey revealed some compelling insights for improving education employment.
What's important, what's not
In the changing landscape of education employment, one area remains constant. Districts that can thoughtfully address the needs of applicants and provide a smooth, seamless hiring process are more likely to attract and retain highly qualified teachers.

According to the teachers surveyed, interviews at the school site with district personnel rated as most important to the education employment process. Following in order of importance were the initial job advertisement and the initial school assignment policy.

Results indicated what so many districts share in common. For example, Kentucky did an adequate job with recruitment interviews, but applicants had low regard for other employment procedures, including slow processing of applications, responses to inquiries and requests for more information. Some survey responders even wrote in negative, unsolicited comments about the process.
Focus on the Applicant, Less on the Employment Process.
Too many districts forget that employment decisions are not entirely within their control. On the contrary, recruitment is a dual decision-making process, which much of the power resting with the candidate.

If the employment process is not meaningful to the applicant, the recruitment effort will fail. Many applicants, unimpressed by a school's recruitment approach, may self-select out of the process and pursue jobs with more progressive or attentive districts.
Education Employment - Advice for Other Districts
The most compelling factor of the survey is that better recruitment is completely within a district's control. For example, if the perfect candidate for a high school science position applies in January, but a district is not officially ready to begin interviewing till May, districts can still cultivate a relationship and maintain communication - right up until the interview day. Better yet, agree to interview early.
Showing respect for a candidate's initiative, encouraging an open dialogue during the employment process, and offering competitive salary compensation can land districts more highly qualified candidates, and lead to improved retention rates.
Source: Munoz, Marco A., Winter, Paul A., Ronau, Robert N. "Teachers: Finding the Right Fit," American School Board Journal, October 2003.