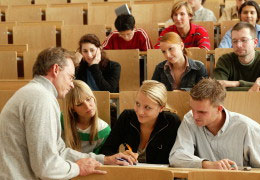 Resources, Development and Support Vital for New Teachers
Study after study confirms that mentoring programs, sound teaching resources and pedagogical support all contribute to new teacher success. To stay in the classroom, teachers need a sense of 'connectedness' to their school and community.
Districts that provide teaching resources, access to a helpful mentor, and demonstrate a firm commitment to professional development have an easier time fostering this sense of community. In short, they recruit and retain high quality teachers.
Reform, Recruit, Invest, Retain
The following guidelines highlight the initiatives and teaching resources key to teacher longevity and success:
Ongoing support for new and practicing teachers is essential to maintaining quality education environments.

Mentoring and peer assistance can be a helpful learning tool that leads to better instruction for both new and veteran teachers.

Recruitment efforts, teacher preparation, hiring practices, salary structure and new teacher support systems should be developed systematically to have real impact.

None of these issues stand in isolation. Teaching resources need to be structured, clear, meaningful, and have measurable timelines with varying levels of accountability.

The status quo will create a system that rewards and encourages mediocrity.

Districts that currently do not have mentoring programs with appropriate teaching resources may find themselves with high levels of turnover, low employee morale, and a staff that cannot meet today's highly qualified standards.
An anonymous poet once wrote, "Teachers leave their signatures on the hearts and minds of our children." Unfortunately, many teachers today simply leave the profession altogether.
Given the appropriate teaching resources and support, however, new teachers can leave a positive, lasting impression on students - and expect long, rewarding careers.
Source: Kotterman, Penny. "The Teacher Quality Continuum: Recruitment, Preparation, and Retention in an Era of Teacher Shortages." Teachers: Supply and Demand in an Age of Rising Standards. National Evaluation Systems, Amherst, MA, 2000.