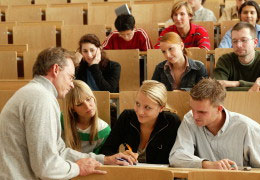 Mentoring from Veterans Critical Aspect of New Teacher Training
There are many factors that can enhance a new teacher's transition to the classroom, but none like learning from the veterans. In fact, working and collaborating with experienced teachers is an often overlooked but key component in new teacher training. According to the Department of Education's "Survival Guide for New Teachers," first year teachers can learn a lot from those who've "been there."
First-year teachers typically look to veterans to:
Share lesson plans that put curriculum guides into practice.
Support and participate in a new teacher's planning process.
Offer tips on the practical problems teacher training does not address in college -- scarce resources, classroom management issues, bureaucracy, etc.
Show respect, patience and collegial support.
Observe new teachers' classes and let them observe yours.
Help teachers locate materials.
Tips on Building a Relationship with Veteran Teachers:
To enhance your new teacher training, ask to visit colleagues' classrooms so you can learn different approaches and techniques from teachers you admire.
Seek the help of a mentor who has skills and knowledge you would like to emulate and develop.
If your assigned mentor is not helpful, seek out an informal mentor that provides more appropriate and supportive new teacher training.
Be polite but clear in your expectations from mentors. Don't apologize for seeking help.
Look to your team teachers for help and guidance.
Don't reinvent the wheel: before you begin developing a curriculum unit, find out if any veteran teachers have materials or insights that would jumpstart your efforts.
An important component of new teacher training is being able to admit you have a lot to learn from experienced teachers.
Source: "Survival Guide for New Teachers." http://www.ed.gov