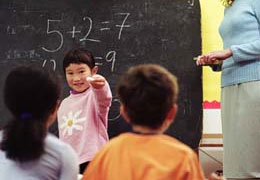 With the advent of block scheduling, technology in the classroom and the "No Child Left Behind Act," new teachers face more challenges than ever before. Candidates competing for specific jobs in education may boast similar credentials, but those actually selected share certain traits and behaviors which set them apart.
After consulting with many school district representatives, AAEE and William T. Nace of Rancocas Valley Regional High School in New Jersey highlight the characteristics of teachers who will be successful in the 21st Century. For those looking for a job in education, ask yourself if you share these qualities:
Successful Candidates:
Know why they want to be teachers. Teaching is a special calling that requires service, dedication, a commitment to work without a time clock, and a love of children - all children. A successful candidate can clearly articulate why he/she desires a job in education.
Know their educational philosophies and utilize research on how children learn. Successful teachers can describe their classroom dynamic, how they structure their classrooms, how they handle discipline problems, how they begin class each day - and why. Today's jobs require teachers to provide student-centered, interactive classrooms where students are actively engaged, have opportunities to express creativity, and understand that making mistakes is all part of the learning process.
Know themselves and make a commitment to ongoing development. Successful teachers improve by learning about their own strengths and limitations and asking for feedback. They welcome observers, are open to suggestions, and employ new methods and techniques. An effective teacher understands that a job in education requires consistent development, honest reflection, a willingness to improve, and a positive outlook.
Know how to make connections with students. For learners to take risks and grow, there must be motivation, meaning, mutual trust and respect. Good teachers know that if they cannot connect with their students, learning will not take place. A good rapport and a structured, friendly environment can increase the chances that students will have a positive and memorable learning experience.
Know that presence is critical for all jobs in education. Strong candidates know how to present themselves with poise and confidence in an interview, in front of a classroom full of students, as well as with parents. Effective communicators who are prepared, professional, caring, and have a high energy level are more likely to be good teachers and good role models.
Source:
Nace, William T. "Many are Qualified. Who is Chosen?" AAEE Job Search Handbook, 2004. Columbus, Ohio.