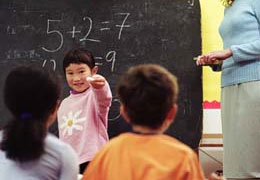 Let's face it - the current teacher job market can be difficult, even under favorable circumstances. If you are a teacher right out of college, armed with a degree but little else, you may feel at the mercy of hungry recruiters looking to fill certain jobs.
Ted Balser, Director of Career Services at the University of Wisconsin, and Paul Jacobsen, Assistant Director, explain how the P.E.N.N.Y. acronym can help teachers target the right job, and anticipate a successful, long-term career with their desired school.
The first step to finding the right job - know thyself.
The second step - know how to market thyself.
P = Passion
The current teacher job market - with shortages of qualified applicants in many areas of the country - suggests an active, hands-on approach to your search for the ideal position. You want a job that allows you to express your passion for teaching, and encourages you to grow personally and professionally.
E = Environment
Start early and learn about each district's attitudes and environment. Does the district welcome and support new teachers? Do they show a positive attitude towards learning? Does the district's educational beliefs and attitudes fit with yours? Learning about these issues can save you time and frustration in your teacher job hunt.
N = Network (Professional)
If a school has a strong career support network, a new teacher will have an easier transition as they enter the professional ranks. A network of experienced teachers who can provide mentoring and support is critical to long term job success. Make sure you ask questions during the interview process and listen carefully to the answers. A network of professional mentors can make all the difference.
N = Network (Personal)
Balance is key for the successful teacher. Ideally, you should balance your professional support network with personal support. If encouragement and proximity to friends and family is crucial to your success, make sure to factor that into your teacher job search. If making a cross-country move, research available activities and opportunities to make new friends. Be honest with yourself about what you will need to be successful.
Y = You
As you explore different teacher job opportunities and begin interviewing, remember that you are indeed, important. You have the deciding vote. Just as you want to find a position that fits, schools want to find the best teacher for that position. By being honest, genuine, and most important, yourself, you will increase your chances of finding the right teaching job - for you.


Source:
Basler, Ted., Jacobsen, Paul, "Finding your P.E.N.N.Y." AAEE Job Search Handbook, 2004, Columbus, Ohio.