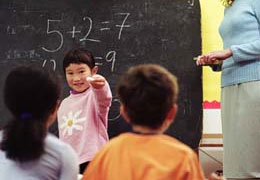 Get to Yes Faster. Technology Can Benefit Both Districts and Job Seekers.
With the advent of No Child Left Behind mandates and the call for "highly qualified" teachers in every classroom by 2005/6 school year, school districts nationwide struggle to hire and retain the best candidates.

As the need for highly qualified teachers increases, especially in critical areas such as math, science and special education, districts are becoming increasingly more creative in their recruitment efforts. Truth is, the usual means of finding candidates is not enough for many districts.

The solution for many backlogged HR departments - technology. "School districts today know that utilizing online systems can increase their chances of hiring highly qualified teachers," explains Ted Sanders, Chairman, Education Commission of the States.

Progressive school districts that utilize a number of different recruitment methods, including online systems, have quick access to highly qualified candidates. Online job boards, recruitment / retention software and tracking systems are becoming the swift and seamless way to attract a new generation of job seekers.

As candidates and districts increasingly leverage technology to streamline the hiring process, everyone benefits, and more highly qualified teachers get placed in the school of their choice.
Good news for job seekers:
As districts become more automated, web-savvy candidates now have more options and search capabilities than ever.

"Technology helps to leverage both sides," explains Sanders. "College graduates are already internet savvy. Those coming up will be even more dependent on the web to find them a job. It makes sense for districts to tap into this tech-adept candidate base."

Job seekers can further make their candidacy stand out by posting their credentials online, including resume, cover letter, and work history. Some web sites even allow candidates to distinguish themselves as "highly qualified" by taking a set of online assessments.

"You could be the perfect candidate for a school you've never heard of," comments Mark Brugger, an Online Education Recruitment Specialist. "If you are willing to relocate, especially, opportunities abound online."
Good for districts:
Many districts are realizing the advantages of automating their hiring processes. Wake County Schools, for example, plan to implement an online matching assessment this year that will help them identify high potential candidates for their schools.

Likewise, Houston, Milwaukee and San Diego schools are poised to revamp their personnel offices to employ more efficient hiring methods. Investments in new technology have been tagged as a key ingredient in successful recruitment.

Automated online systems can also eliminate mountains of paper, duplicate or missing applications, and sluggish interview procedures that lead many schools to miss out on excellent teachers. Bottlenecked systems oblige them to settle for less qualified candidates.

Not far behind the need for highly qualified teachers is the imperative to retain them. With the cost of teacher turnover ranging an average $8,200 - $13,100 per teacher, online recruiting and searching can be a significantly cheaper alternative to costly recruitment fairs, print and media advertisements.
Find it Online: Advice for both Job Seekers and Districts
Each year, more and more options become available to the education community. The trick is finding the right tech venue for your needs. Teacher candidates and districts can now streamline much of the job hunting process by posting their credentials online. Recruiters agree that it is a wise idea to post your resume and/or job criteria on a number of websites, cover as many territories in a given area, and track progress on each site.

Here are three main categories:

Private sites - Some websites, funded by private investors or districts, offer free services to teacher candidates, including job listings, advice columns and mentoring services. Private sites can offer a positive ROI to districts as well, including automated hiring and tracking systems that help to eliminate excess paperwork. Some examples are College Recruiter.com, AgentK-12.com and TeachersSupportNetwork.com.

Public / School district sites - These sites are typically maintained by a particular school or district, and can be a great source for up-to-the-minute job postings. For teacher candidates who desire a position within a specific district, it's smart to check these sites often, and follow the steps listed. Likewise, for progressive school districts, maintaining a professional, up-to-date website can bring highly qualified candidates to your cyber doorstop.

Government sites - Sites specific to each State Department of Education can be a robust source for the latest info on job searching, recruitment, certification and public educational issues. On many sites, candidates can also search for jobs and apply online. Examples are www.recruitingteachers.org and www.teacherquality.us
Everyone Benefits:
"The internet is the communication tool of the future," reminds Sanders. "Web-based recruitment can help districts locate and choose from a broad teaching pool, while job seekers have the ability to increase their scope and reach in the education community."

Both sides can get to "Yes" faster.




Author:
Tracy MacGregor
President, CEO
Teachers Support Network
211 Nassau Street
Princeton, NJ 08540