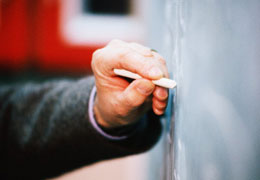 Hiring and retaining "highly qualified" teachers is a universal objective.
Through the National Teacher Recruiting Center, the Teachers Support Network works with schools to meet this urgent need.
Helping to recruit "highly qualified" teachers.
The National Teacher Recruiting Center provides its member schools with an easy to use service to post available teaching and administrative openings.
The National Teacher Recruiting Center matches, screens and presents candidates for evaluation based on criteria established by the district. Recruiters can sort candidate portfolios on many fields such as credentials or years of teaching experience.
Easy to use online tools help human resource professionals, recruiters, and diversity administrators manage an accessible and secure recruiting process with less paperwork. Files can easily imported or exported to existing administrative systems.
Teacher Support Network helps districts put their best face forward.
First impressions are lasting impressions. Through the National Teacher Recruiting Center, hiring schools can show their best face - providing candidates with a clear, compelling portrait of the district, its goals, and its commitment to the highest quality teachers. Online tools make it easier for hiring districts to tell a convincing recruiting story.
The National Teacher Recruiting Center makes it easy to efficiently establish, maintain and track communications with candidates - from initial contact, to scheduling interview and evaluation appointments, to processing reference checks, and finally, extending job offers. Recruiting files become more accessible; scheduling is easier.
Helping to develop and retain "high qualified" teachers
The Teachers Support Network provides its school members with a visible, accessible process to ensure that once hired, teachers receive the support they need be "highly qualified." Reports summarize existing requirements of "highly qualified" teachers on staff and highlight requirements that have yet to be completed on a clear timeline, consistent with No Child Left Behind requirements. Schools and teachers both benefit with a clear report of fulfilled requirements and needs, consistent with new regulations.