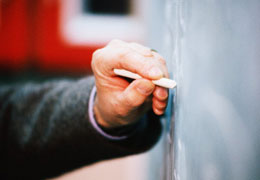 Teacher Portfolio
Current or aspiring teachers can build a portfolio including credentials, work history and special interests or needs. The portfolio can be available for viewing by member school districts that are recruiting highly qualified teachers.
Career Preparedness Assessment
TeacherKeys is an online assessment of the essential skills, knowledge, and abilities typical of "highly qualified" teachers. TeacherKeys is based on the successful WorkKeys, published by ACT, a leading provider of information for educational and career decisions. TeacherKeys measures the preparedness for a career in education. Every candidate who takes the TeacherKeys assessment will receive summary results as a benefit of membership. Detailed diagnostic and prescriptive reports and "high-stakes" testing results are also available for an additional fee. The results of TeacherKeys can be made available to potential employers, if requested by the candidate.
News and Chat
Members have access to a news service providing current information relating to teaching and education and a bulletin board.
Web Events
From time to time, members can participate in web-casts on topics such as interviewing skills, successful mentoring, and other career related topics.