The requested resource (/include/layouts/bodyTopContent) is not available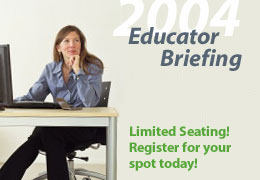 Who Should Attend?
Any school administrator responsible for hiring, developing, or retaining highly qualified teachers.
What Should I Expect?
A lively, in depth discussion of the specific challenges surrounding teacher recruitment and retention. And, an interactive demonstration of Teaching Central, Recruitment Central and TeacherKeys - the set of Teacher Support Network Tools specifically crafted to address the many recruiting and retention challenges we will discuss.
When?
FREE Educator Briefings are now being scheduled in various
U.S.
cities. Please indicate your interest and you will be contacted once dates are finalized.
Our Fall 2005 schedule will be posted shortly.
Where?
Atlanta, Chicago, Dallas, Denver, New York City, Las Vegas, Los Angeles (Riverside), Philadelphia, San Francisco and Seattle. Please indicate your interest in attending and preferred location and confirmation will be provided once specific dates are determined.
Why?
Because every child in every classroom deserves a highly qualified teacher!
Registration
Register today
by completing the form below; please call 877 DO-TEACH (877-368-3224) or email
briefing@teacherssupportnetwork.com
with questions or comments.
(* Indicates required field.)